Đurić: Assaults on Kosovo-Metohija Serbs aimed at intimidating them
July 6, 2018 Source: Tanjug
The assaults on Serbs on the Kosovo and Metohija are not random and without political motives. Their background is a persistent politics of intimidating Serbs in Kosovo and Metohija, stated the Director of the Office for Kosovo and Metohija, Marko Đurić today.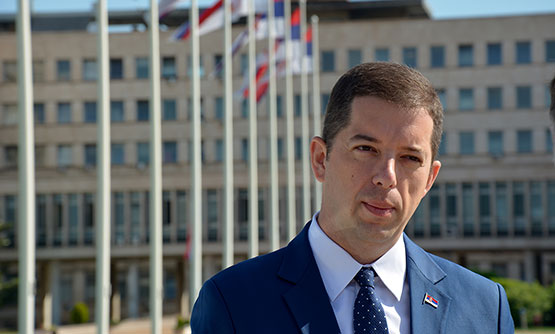 Photo: Tanjug
"It has been decades now that we know that assaults on Serbs are anything but accidental. We also know that they are precooked in the political kitchen serving fear to the Serbs in Kosovo and Metohija. This is because certain political circles, previously engaged in waging war, would prefer it if there were no Serbs in Kosovo and Metohija," stated Đurić after a young Serb was assaulted in Prilužje earier today.
Đurić commented that, with the negotiations taking place, the message being sent here is the one of exerting pressure on the Serbs, and a preview of how the Serbs would be treated if our country did not make political concessions to them.
The Director of the Government's Office for Kosovo and Metohija emphasized that the obligation of the international forces to ensure peace and order at Kosovo and Metohija is still in effect.
"The political climate conducive to assaults is solely responsibility of the Albanians. Nobody's children in Kosovo and Metohija should be less secure because of political or, as in this case, extremist reasons," Đurić said.
He stressed that normal life could only be discussed provided that children of all nationalities are safe.
Commenting on the information about the existence of a list of more than 200 Serbs from Đakovica charged with alleged war crimes against the civilian population in the territory of that municipality, Đurić recalled that not one member of the Albanian community has been held responsible for crimes, murders, and kidnappings.
"These people keep saying that the crimes of the other side should be prosecuted. All crimes should be processed, that goes without saying, but first take the log out of your eyes and then take a long look in the mirror," said Đurić.
The list of people has allegedly been sent to the Kosovo Special Prosecutor's Office by a civil organization called "Civil Society Group for Collecting Evidence of War Crimes Committed during the War and Preparing Criminal Charges Against the Serbian Criminals," from Đakovica.