Đurić: We do want peace, but Albanians cannot get just everything they want
July 17, 2018 Source: ALO
The Dialogue between Belgrade and Priština continues tomorrow. However, in view of everything that has happened since the last meeting in Brussels, namely, the arrest of Serbs in Kosovo, new incidents involving returnees to Kosovo and Metohija, the harsh rhetoric of Haradinaj and Thaci about the "red lines" and the formation the so-called Kosovo Army, there is no knowing about the tone of the upcoming round of talks.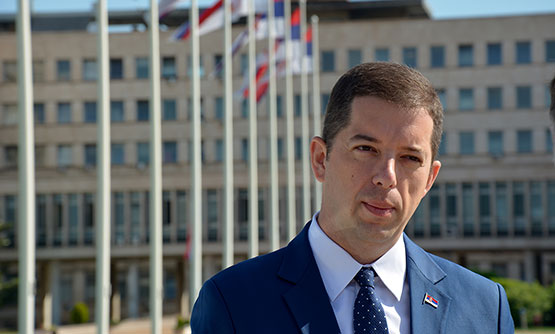 Photo: Office for Kosovo and Metohija
Marko Đurić, Director of the Office for Kosovo and Metohija, said in an interview with the Alo! daily that the arrest of five Serbs, subsequently and promptly released after a strong reaction of Serbia, was only the most recent in a series of dangerous provocations.
- This provocation was completely contrary to the spirit of the Dialogue, and what had been agreed upon at the last meeting held the highest level and guaranteed by the EU. Had the detained Serbs not been promptly released, our response would also have been very explicit. No one can force Serbs in Kosovo and Metohija to recognize the self-proclaimed state of Kosovo*, and to give their support to the formation of some army. This time around everything ended well and I am convinced that the determined stand of President Aleksandar Vučić was a decisive factor in that, as well as the manner in which Prime Minister Ana Brnabić reacted at the summit of the Western Balkans leaders and Europe.
Do you expect people to provide support to the solution for the Kosovo and Metohija at the referendum, as proposed by President Vučić?
- We are currently far from any sustainable proposal, which we would then offer to our citizens to state their opinion. This proposal would be an essentially compromise solution. Such a proposal would require openness and readiness on the part of both parties in the negotiations, as well as by the key geopolitical factors, since both Belgrade and Priština would equally win and lose, by definition. Should it come to that, I expect our citizens to be aware of the historical chance of building a long-term, peaceful, predictable and promising future in this region.
What is your opinion about the request of the Albanians from Preševo to have the same rights as the Serbs have in the north of Kosovo and Metohija?
- Albanians in Central Serbia are guaranteed the highest level of political and all other rights, and there are not many national minorities in Europe that enjoy such a level. Naturally, no one here will attack our citizens of Albanian nationality because we are not such a society. Also, I'd rather not talk in hypothesis. However, I would very much like for the Serbs in Goraždevac or Prilužje to have the same degree of personal safety, and conditions for a safe and dignified life as our fellow Albanian citizens enjoy in Preševo. These requirements that you refer to are only ephemeral daily politics issues, with no weight or sincerity to them, because of course no one wants to be in the shoes of our fellow countrymen at Kosovo and Metohija.
Everywhere in the world, private property is inviolable, except when it comes to Serbs in Kosovo and Metohija. How is that possible?
- Everything is possible Kosovo and Metohija, and double standards are the principle of existence there. This self-proclaimed creation is a minion of many powerful and influential states, and these states are willing to tolerate everything they would not otherwise tolerate in their territories, only for the sake of some of their interests. We must never forget that today's state of affairs has been the outcome of a crude, unlawful aggression on a sovereign country. Of course, nothing good could come out of it.
Ismail Morina has recently been released from an Italian prison. Your comment?
- I do not like such an outcome, but we are patient and persistent in trying to bring fugitives from law to justice.
What is your opinion about Haradinaj's and Thaci's persistent calls to engage the United States in Dialogue?
- Formal involvement in the Dialogue of a non-EU stakeholder is not probable at this point in time. However, I do not think that a stable solution to the Kosovo-Metohija problem can occur without the United States, Russia and China having their say on it, as the permanent members of the UN Security Council.
Thaci says that for him the end of the Dialogue is when Serbia recognizes Kosovo. What is your view of the end of the Dialogue?
- There is not much mystery here. Either it will end with a compromise that would bring about a mutually acceptable solution, or we will maintain the status quo, a kind of frozen conflict for an indefinite time. It is such maximalist wishes of the political representatives of Kosovo and Metohija Albanians that keep moving us away from any solutions.