Vučić: EUR 10 million to be invested in the KBC Mitrovaca clinical centre
September 09, 2018, Tanjug
Serbian President Aleksandar Vučić visited the KBC Kosovska Mitrovica, a medical and clinical center, where he announced that EUR 10 million will be invested in reconstructing its building and facilities, and that the works are expected to start very soon.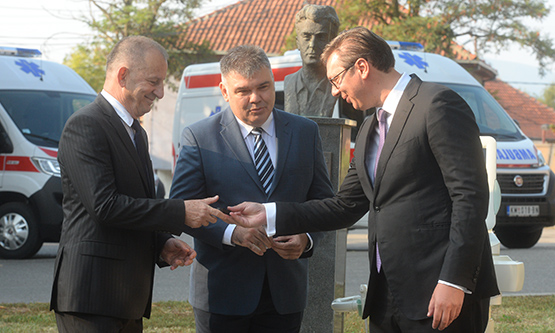 Photo: Office for Kosovo and Metohija
President of Serbia presented to the KBC Mitrovica and KBC Gračanica the following valuable equipment and vehicles: two fully equipped ambulance vehicles, an ultrasound scanner for the KBC Gračanica, as well as a gynecology operating table, a transporting incubator, a bigger and a smaller size sterilization drums, the operating room paraphernalia, and other equipment for the KBC Mitrovica.
The total value of the donation is 98,000 EUR, vehicles excluded.
Vučić recalled that it was the fourth time he visited this KBC, and once again thanked the healthcare workers for maintaining this health institution as one of the most important in Kosovo and Metohija, and also for remaining to live in Kosovska Mitrovica.
He announced that ten new people would be employed by end of the current year. Vučić said that he expected that even a tri-digit number of new health workers would be employed in the coming period, but that he also expects an increased level of health care because they will have the most modern equipment.
President said that a 5.5 million EUR worth surgical unit would be installed. "We are ready as the state to invest 10 million euros for this hospital in Kosovska Mitrovica. We want to set an example as to how an up-to-date, contemporary place should be equipped in order to provide care and medical treatment to the people," Vučić said.
Up to two million euros will be invested in KBC Gračanica, which will be provided by the state as a help, Vučić added.
He noted that the Mayor had asked for EUR 1.8 million in support. These funds would be used for reconstruction of capacities and facilities and purchase of modern equipment.
"The center is used by a large number of Serbs from Kosovo, the Kosovo Morava region, as well as from the Sirinić District."
Vučić said that Serbia can do much more today than before, and that the promised 10 million euros for KBC Mitrovica can be disbursed within a day.
"Works on the KBC Mitrovica will soon be initiated and are expect to be finished before long. This institution is a symbol of the survival of Serbs on KiM and our future," Vučić said.
Milan Ivanović, Director of the KBC Mitrovica, stated that the institution received very valuable equipment.
He thanked Vučić for the visit which, as he said, "promotes optimism and hope".
"We thank you for reaffirming KBC Mitrovica and its healthcare workers as the strongest pillar of the state in this region and symbol of the resistance and the struggle for survival," Ivanović said.
He emphasized that the President of Serbia is committed to resolving the issue of Kosovo and Metohija as a matter of the most important state and national interests, and assured Vučić of the "unanimous support of the health workers for the work and engagement".
Ivanović added that Vučić's politics is a about fighting for the institutions, and that much has been done for the KBC Mitrovica over the past several years.
For example, cooperation with the Military Medical Academy (VMA) in Belgrade has been made possible; important services were reinstated, such as scanning and oncology; all medical specializations were granted; possibility of extended on-call time was introduced; the best students from the Faculty of Medicine have started being hired; and many other things, Ivanović said.
The Minister of Health, Zlatibor Lončar, also attended.
Vučić is expected to also visit the site of the Sunčana Dolina (the Sun Valley) project, as well as Serbs in the enclave, the village of Banja, the settlement of Srbica, south of the Ibar River.
At noon, he is expected to give a speech to the Serbs in Kosovska Mitrovica.
Vučić commenting on the blockade: Affairs should be tackled verbally, using brains instead of guns
Commenting on the news about the KLA (UCK) veterans' barricade erected on the road to the village of Banja, south of the Ibar, the Serbian President Aleksandar Vučić said that things should be resolved with brains rather than guns.
"This morning about six, there were reports about one barricade. Now they say there is another roadblock elsewhere. As if one block is not enough and so when you get around the first set of dredges and cargo trucks, you need to do it all over again," Vučić said.
President Vučić said that it is an indication of the same diseases that we used to suffer from, expressing hope that the cure will be found by smarter means: mutual talks, powerful economy, brains instead of guns.
"I am even more determined on preserving peace and maintaining Serbian institutions and the Serbian people in Kosovo and Metohija," said Vučić in Kosovska Mitrovica on that occasion.
Vučić also expressed his belief that Serbs in Kosovo and Metohija do understand that he is fighting for all of them.
"I never had fascination for anyone's hatred. Anyone thinking that angry boasting and the display of insulting symbols can get them anything, are gravely deceiving themselves," Vučić said.